Are you ready to rock your garden? If you're looking for creative ways to spruce up your outdoor space, a rock garden might be just what you need. With their low maintenance and high impact, rock gardens are perfect for adding some WOW to your landscaping. But where to start?
Fear not, fellow gardener! We've rounded up 10 amazing rock garden ideas to inspire your next project. From bold and colorful designs to serene and minimalist layouts, these rock garden examples will have you feeling like a master landscaper in no time. Imagine yourself basking in the sun, surrounded by the peaceful serenity of your own personal rock garden oasis. Let's get started!
Table of Contents
Rock Garden Ideas to Transform Your Yard
Rock gardens are a beautiful and low-maintenance addition to any yard or garden. They can be created in a variety of styles, from minimalist and modern to natural and rustic. In this article, we've compiled a list of 10 stunning rock garden ideas that will inspire you to create your own. Check out these beautiful examples below.
1. Beginner Rock Garden For Small Spaces
The Spruce features a great tutorial on how to build a beginner-friendly rock garden for small spaces. This is a great starting point to build a minimal rock garden.
2. Zen Garden
A zen garden is a perfect choice for those who want to create a peaceful and calming space. In this project from Great Garden Ideas, the author shows you how to build a beautiful zen garden that creates tranquility in your yard.
3. Sloping Rock Garden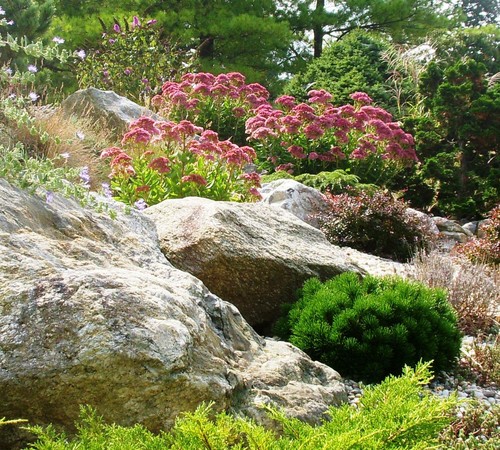 This stunning rock garden takes advantage of a natural slope in the yard. Large rocks anchor the design, while smaller stones and plants create a lush and colorful landscape.
4. Alpine Garden
This beautiful alpine garden features a variety of rocks and stones, along with alpine plants that thrive in rocky environments. The effect is both natural and striking.
5. Small Rock Garden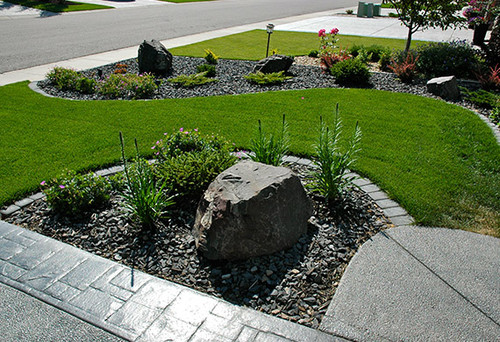 Photo by Mirage Landscaping – More landscaping photos
If you have a small yard or patio, a miniature rock garden is a great option. This lovely example uses two minimalistic rock gardens at opposite ends. Look how well it flows with the remaining area of lawn.
6. Rustic Rock Garden
For a more primitive look, try a rustic rock garden. Checkout the various projects from Prim Gardens, including the one featured above. And while we usually do not recommend railroad ties for most garden beds (especially edible), they would probably look good in a rustic project like the one featured above.
7. Rock and Water Feature
Water features can add a soothing element to any rock garden. This beautiful example features a small pond surrounded by rocks and plants. It's a simple design that you can build in any small space. It looks great for a simple corner garden idea!
8. Colorful Rock Garden
Don't be afraid to add color to your rock garden. This fun example features a mix of rocks and stones in shades of red, yellow, purple, blue, and green, along with gnomes to create a vibrant fantasy-like setting. This is one your kids are sure to love!
9. Edible Rock Garden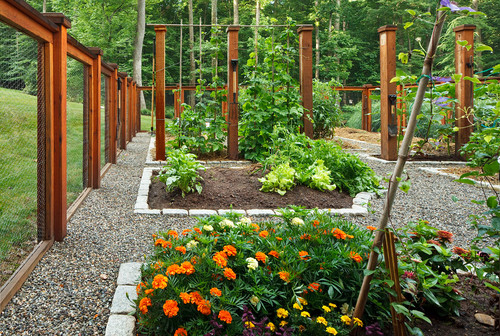 Photo by SURROUNDS Landscape Architecture + Construction – Look for landscaping design inspiration
If you love to cook, try an edible rock garden. This beautiful example features a mix of herbs, vegetables, and rocks arranged in a beautiful fenced in area (great for keeping animals away). Enhance the look and add more color by growing flowers in some beds.
10. Japanese-Inspired Rock Garden
This Japanese-inspired rock garden features a mix of rocks, a water feature, and carefully placed plants, creating a tranquil and minimalist landscape. The authors show you how they plan, prepare, and build the entire design including the deck. This rock garden idea is a great option to add some serenity to an urban backyard.
Gorgeous Rock Garden Ideas to Transform Your Yard: A Recap
Rock gardens are a fantastic way to add some interest and texture to your outdoor space. Whether you're going for a desert vibe or a whimsical fairy tale feel, there's a rock garden design that's perfect for your style. We hope these 10 rock garden ideas have inspired you to get started on your own beautiful creation.
For more gardening tips and inspiration, be sure to check out our gardening blog. With helpful articles on everything from plant care to landscaping, we're here to help you make your outdoor space the envy of the neighborhood. Thanks for reading, and happy gardening!